HDS signs Technology Licensing Agreement with Honeywell UOP-ExxonMobil
Hainan Handi Sunshine Petrochemical Co., Ltd. (HDS) becomes first customer in China under joint Honeywell UOP-ExxonMobil marketing alliance for premium fuels and lubes¡¡¡¡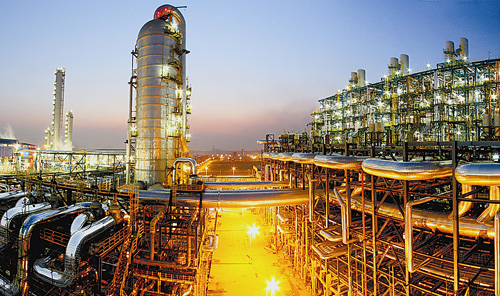 UOP and ExxonMobil announced a technology licensing agreement with Hainan Handi Sunshine Petrochemical Co., Ltd. (HDS) in August. This is the first project in China under a joint marketing alliance for premium fuels and lubes between the two technology providers.
The integrated UOP and ExxonMobil technology platform enables HDS to meet growing demand in China for cleaner-burning jet fuel and diesel along with high-quality Group II/III base oils, which are typically used in premium, high performance motor oils and industrial lubricants. Honeywell UOP's Unicracking™ technology and ExxonMobil's MSDW™ catalytic lubes de-waxing technology will be installed in HDS production base in Hainan.
"The combination of UOP's hydro processing solutions and ExxonMobil's catalytic de-waxing technology provides a single, integrated solution for HDS to produce fuels and lubes," said Mike Millard, Vice President and General Manager of Honeywell UOP's Process Technology & Equipment business. "This will help meet the growing demand in China for motor oil as well as ultra-low sulfur diesel and jet fuel."¡¡¡¡
"The number of automobiles in China reached nearly 300 million in 2015 and is forecast to reach 600 million by 2025," said Dave Andrew, Vice President of ExxonMobil's Catalysts and Licensing global business. "The rapid growth of new automobiles in China is driving growth in demand for premium lube oil, which underscores the importance of this technology."
Honeywell UOP's Unicracking process and catalysts upgrade heavy fractions of crude oil to produce ultra-clean distillate products – such as diesel and jet fuel – as well as feedstock to make lube oils. The Business has been developing and licensing hydro-processing solutions – including advanced catalysts and specialty equipment – for more than 50 years, with more than 200 units licensed in over 40 countries.
ExxonMobil's MSDW process is the industry-leading technology for selective de-waxing to make high quality base oils, with 30 licensed units in operation or under design. The technology uses proprietary catalysts designed to reduce pour point and achieve very high levels of aromatics saturation to deliver base oils with excellent low temperature properties and long-term stability.
¡¡¡¡
About the alliance:
¡¡
ExxonMobil and Honeywell's UOP have formed a joint marketing and licensing alliance to deliver a comprehensive suite of lube and advanced fuels hydro processing and engineering capabilities to companies in the refining sector. The alliance is limited to marketing, licensing, engineering package delivery and providing catalysts for fuels and lubricants improving opportunities for refiners globally.