HDS Wins the 18th SIPO Award for Chinese Excellent Patent
Chinese Patent Awards are designed to intensify national intellectual property strategy, to guide and push intellectual property works to play an important role in optimizing industrial structure and accelerating transition of economic development mode, and to encourage and commend patentees and inventors who have made an outstanding contribution to technical (design) innovation and economic development.
It is reported that only three enterprises in Hainan Province have won the 18th SIPO Award for Chinese Excellent Patent. HDS independently developed WHITE OIL PRODUCTION METHODOLOGY got shortlisted for its advanced technology and wide application environment and good prospect. Being an excellent private enterprise in China, HDS pays high attention to technical research and development and intellectual property relevant works since the very beginning. It integrates intellectual property works into the whole process of R&D, production and operating management.HDS devotes itself to building the No. 1 lubricating materials brand in China and to providing healthy and eco-friendly product to consumers. This invention represents the top level of lubricating material production in China, and will effectively push new product development.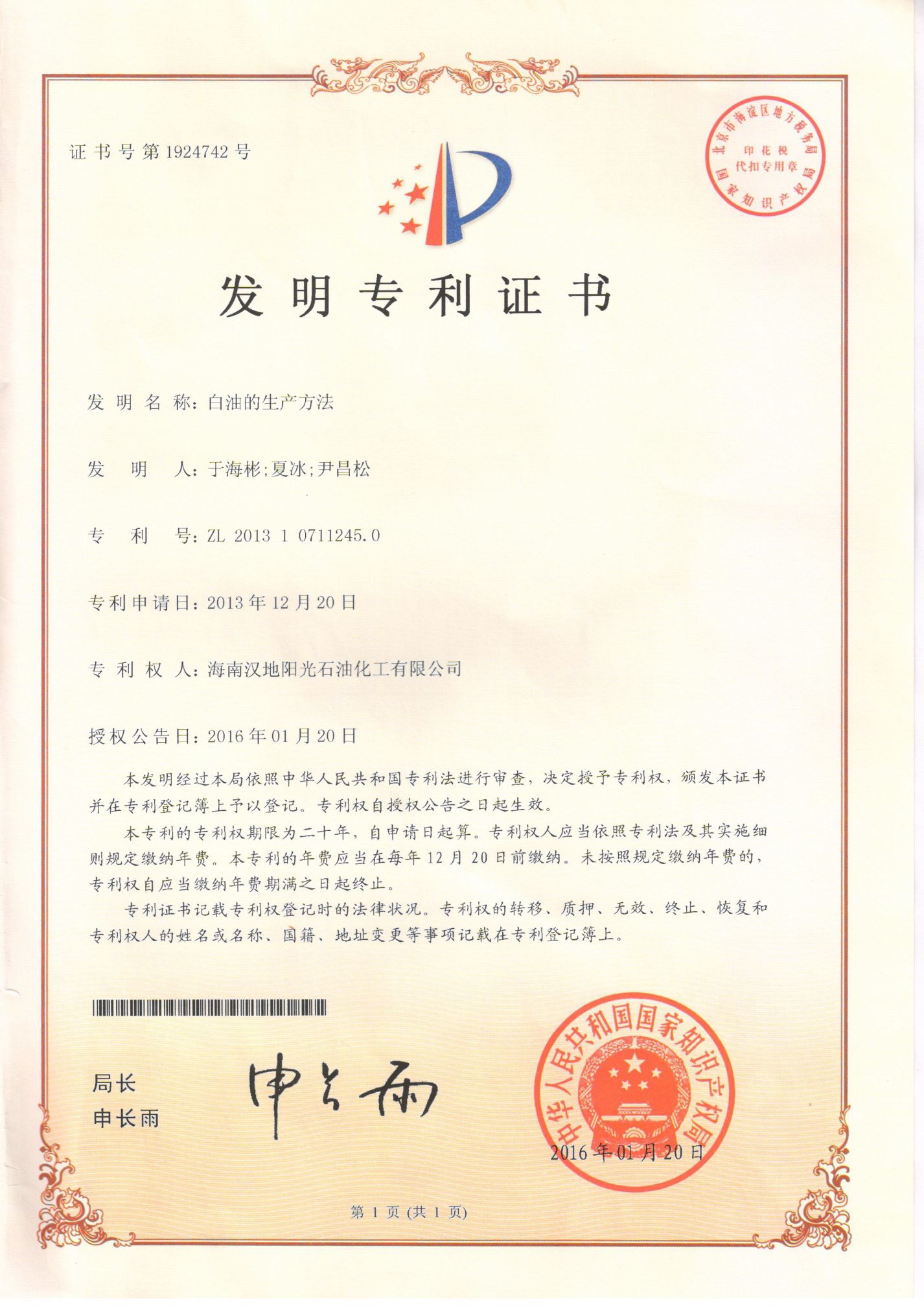 According to HDS technicians, the awarded patent is a WHITE OIL PRODUCTION METODOLOGY which can produce h food grade white oils. It not only lowers the requirement of UCO, but also avoids changing method of hydrogen reaction catalyst required by different feedstock. So it can save cost and simplify production processing, thus guaranteeing the long term stable operation. Performance of high-end special lubricating materials produced by this technology rivals that of international high-end products. Products adopting this new technology can on the one hand break foreign products' monopoly on China's market and replace imported products to meet the requirements of domestic market, and on the other hand be exported and explore global market. This will also stimulate, lead and push national lubricating materials industry development ,especially meet the high-end lubricating material demand of high-end precision machinery, aviation, aerospace, military, deep sea drilling, etc.
The award represents HDS sustainable capacity of technical innovation and independent research and development, high technical level and intellectual property awareness It is a significant sign of enhanced independent innovation capability and core competence of the company and a recognition to HDS. HDS will take it as a new beginning, focus on structure adjustment, transformation and upgrading to accelerate production innovation and promote independent innovation constantly.